How to Identify the Printer Paper Roll Size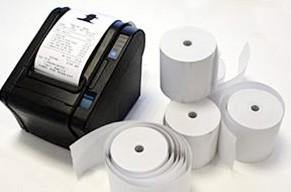 You may use an Epson printer in your own restaurant, or you may use a mobile Verifone POS device in the kiosk, but one day you find the paper roll is about to run out, you have to get one new piece of paper roll to replace. But what's the paper roll size you should use? what's the price you should pay for the printer roll? In this article, we will guide you on how to find the correct paper roll size for your printer.
Firstly, you need to find out the correct roll size used in your printer machine. Here below are 3 ways to identify the paper roll size:
Google It. If you are sure of the printer model you are using, then you can Google the printer model, then you will find out the correct size you use. Take an example, for Epson TM-T88V POS receipt printer, it uses the 80mm or 58mm width paper roll. While for most of Verifone models, it uses the 2 1/4" (57mm) width roll paper.
Measure It. You can measure the printer machine with the manner: the printer's width determines the paper roll's width, the printer's groove determines the paper diameter. In this way, you can get the correct size you use. You can read

 

this article about how to measure the paper roll size.
Find Out The Old Roll Size. Before you throw out the finished old rolls, you can measure the roll size with a ruler by yourself. The paper roll is virtually is a cylinder, so measure the roll width and diameter by yourself, then you will be clear about the roll size.
Once the paper roll size is confirmed, it will be easy to confirm the price: you can find a local paper roll supplier, or you can Google to find out some online suppliers. Just tell them the size and quantity you need, they will quote you the price.